Trump's order barring refugees flies in the face of logic and humanity
Jan 29, 2017 23:21 pm UTC| Law
With an irony that hasnt gone unnoticed, US President Donald Trump signed his executive order Protecting the Nation from Foreign Terrorist Entry into the US on January 27, Holocaust Memorial Day. The orders instructions...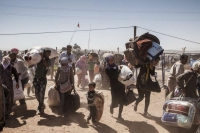 Refugee crisis: Russian withdrawal from Syria won't let Europe off the hook
Mar 15, 2016 14:53 pm UTC| Insights & Views
The first Russian aircraft have already begun to leave Syria following Vladimir Putins troop withdrawal announcement. The ceasefire appears to be holding and parties are committed to fresh peace talks in Geneva. But will...