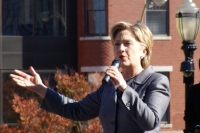 Clinton's loss was not because of sexism, but because she wasn't radical enough
Nov 14, 2016 08:58 am UTC| Insights & Views Politics
Hillary Rodham Clinton failed to make it into the White House as president because she badly lost the delegate count. But she did win the popular vote, albeit closely, so she wasnt widely rejected by voters - just in...
Despite the rhetoric, this election fails the feminist test
Jun 27, 2016 23:15 pm UTC| Insights & Views Politics
The idea that there are policies of particular interest to women goes back to the suffrage era at the turn of the 20th century. Among the key arguments for women gaining the vote was that it would allow them to address...