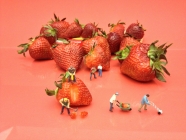 How reliant is Britain on EU migrant workers?
Aug 09, 2016 09:21 am UTC| Insights & Views
Brexit the UK vote to leave the European Union has caused uncertainty in a number of areas. One of which is the impact that potentially reduced immigration will have on the British economy, particularly in industries...
We must stop looking at EU migrants as coming from two Europes – the east, and everywhere else
Apr 26, 2016 07:47 am UTC| Insights & Views
Migration is a central theme in the debate over Britains membership of the EU before the referendum in June. But the focus is often upon migrants from eastern Europe, with migrants from everywhere else in Europe largely...