Sheep can recognise celebrities from photographs, says amusing study with serious potential
Nov 11, 2017 01:27 am UTC| Technology
Sheep are surprisingly smart. New research from the University of Cambridge shows the animals can learn to recognise people from photographs, even people theyve never seen in real life, such as celebrities. The...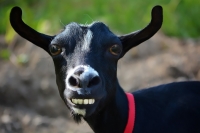 Goats, sheep and cows could challenge dogs for title of 'man's best friend'
Jul 10, 2016 19:42 pm UTC| Insights & Views Life
Since the evolution of dogs from wolves tens of thousands of years ago, they have been selectively bred for various roles as guards, hunters, workers and companions. But dogs are not the only animal humans have...