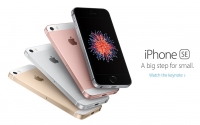 iPhone SE and iPad Pro offer power in a small package, but can they reverse Apple's sales slide?
Mar 22, 2016 16:29 pm UTC| Technology Business
Is bigger always better? Not when its smaller and heres the proof. For the first time, Apple has released an iPhone out of its usual release cycle, one that goes against the trend by arriving smaller and cheaper, targeted...