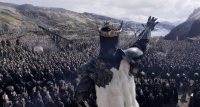 Guy Ritchie's King Arthur - a triumph of modern spectacle
May 17, 2017 02:44 am UTC| Insights & Views Entertainment
There have been several film versions of the King Arthur myth, each reflecting something about the socio-political context in which it was produced. Richard Thorpes Knights of the Round Table (1953), for example, reflects...
Weiner's erotic mediation: Bill Clinton's sex vs Anthony Weiner's sexting
Aug 04, 2016 10:09 am UTC| Insights & Views Politics
Weiner (2016) was one of the more popular documentaries that screened at this years Sydney Film Festival. I managed to catch it last week. Directed by Elyse Steinberg and Josh Kriegman, the film documents the New York...