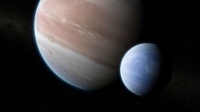 Exomoons: astronomers report first ever discovery
Oct 04, 2018 14:27 pm UTC| Insights & Views Science
In Star Wars VI we first meet the Ewoks living on the Forest Moon of Endor. The planet Endor itself is a gas giant, but the Forest Moon is a habitable world, peopled by small furry sentient creatures. While we may not be...
More than 1,000 new exoplanets discovered – but still no Earth twin
May 12, 2016 04:34 am UTC| Science
NASA astronomers working with data from the Kepler space observatory have presented the largest single crop of newly discovered exoplanets to date. Its impressive 1,284 new planets have been announced, including around...