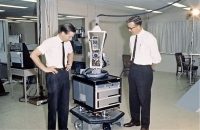 Why we talk about computers having brains (and why the metaphor is all wrong)
Jul 04, 2022 16:37 pm UTC| Technology
It is a truth, universally acknowledged, that the machines are taking over. What is less clear is whether the machines know that. Recent claims by a Google engineer that the LaMBDA AI Chatbot might be conscious made...
'Jobs and growth' and deja vu: reprising a failed American experiment
May 12, 2016 04:14 am UTC| Insights & Views Economy
During his budget speech Treasurer Scott Morrison said the phrase jobs and growth 13 times. It seems he is not a superstitious man. But Triskaidekaphobes were not the only ones left with a queer feeling after his speech....