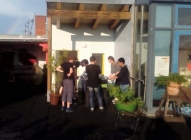 First home buyer schemes aren't enough to meet young adults' housing aspirations
Aug 15, 2019 17:36 pm UTC| Insights & Views Real Estate
Young adults not only struggle to buy a home, many struggle to secure any kind of independent housing. This contributes to a cycle of living in precarious and informal housing and to a growing gap between their current...
Who wins and who loses when platforms like Airbnb disrupt housing? And how do you regulate it?
Nov 08, 2018 16:45 pm UTC| Insights & Views Technology
Short-term letting platforms like Airbnb are changing property owners and investors views and behaviour in the Sydney and Melbourne rental markets. These changes are directly affecting housing availability in localised...