Over a month on in post-election Australia: No mercy for refugees in Indonesia
Jul 03, 2019 20:56 pm UTC| Insights & Views Politics
The unexpected election win for Scott Morrison and his Coalition in Australia on 17 May means that refugees in the region continue to face gruelling prospects of finding a durable solution in their search for effective...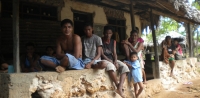 Compensating underage people smugglers from Indonesia for their unlawful treatment in Australia
Oct 20, 2018 16:00 pm UTC| Insights & Views Law
Indonesian and Australian lawyers have taken up the cases involving Indonesian minors who were caught manning boats that smuggled asylum seekers to Australia. The Australian authorities used to treat many minors like...