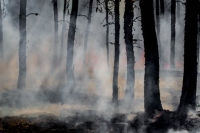 A wealth tax forces those responsible for climate change to pay for it
Nov 08, 2018 16:40 pm UTC| Insights & Views Law
The costs of climate change are mounting. A wealth tax would provide funds to address both the climate crisis and poverty. Carbon prices implemented by Canadas federal and provincial governments will end the free...
Hurricanes, hog manure and the dire need for carbon pricing
Oct 16, 2018 15:26 pm UTC| Insights & Views Nature
Once-in-a-lifetime hurricanes are striking the southern United States with alarming frequency. Hurricane Michael just slammed into the Florida panhandle, and the destructive power of Hurricane Florence is still being felt,...