In the name of 'amateurism,' college athletes make money for everyone except themselves
Apr 08, 2019 05:25 am UTC| Insights & Views Sports
As millions of people tune in to watch the Final Four, much of their focus will be on the numbers on the scoreboard. But a March 2019 report from U.S. Sen. Chris Murphy, a Democrat from Connecticut, calls attention to...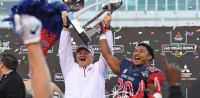 How big bonuses for winning coaches became a tradition in college football
Dec 21, 2018 11:02 am UTC| Insights & Views Sports
As college football bowl and playoff games unfold before a TV audience of millions, most of the attention will be on the final scores. Less is likely to be said about certain bonuses that the coaches get for their bowl and...