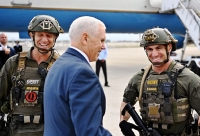 QAnon believers will likely outlast and outsmart Twitter's bans
Jul 26, 2020 12:29 pm UTC| Insights & Views
Twitter has announced its taking sweeping action to limit the reach of content associated with QAnon. Believers of this fringe far-right conspiracy theory claim there is a deep state plot against US President Donald Trump...
Why the media needs to be more responsible for how it links Islam and Islamist terrorism
Oct 01, 2018 14:12 pm UTC| Insights & Views
Since the Sept. 11, 2001 attacks in the US, Islam has become central to debates about social cohesion and national security in Australia. Restrictions on Muslim immigration have been openly discussed most recently by...