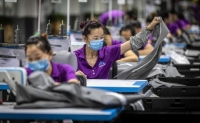 NZ remains unscathed by US-China trade war, but that's no reason for complacency
Nov 24, 2019 14:43 pm UTC| Insights & Views
Despite disruptions to global value chains, the 18-month trade tensions between the US and China appear to have left New Zealand exporters unscathed so far. As our analysis of StatsNZs merchandise trade data shows, New...
Why the Australasian Health Star Rating needs major changes to make it work
Jun 19, 2019 02:26 am UTC| Insights & Views Health
Unhealthy diets cause multiple physical and mental health problems. To help consumers make healthier choices, Australia and New Zealand introduced the voluntary Health Star Rating (HSR) system in 2014. The system is...