Athlete activism or corporate woke washing? Getting it right in the age of Black Lives Matter is a tough game
Sep 21, 2020 05:35 am UTC| Sports Politics
So-called brand activism is evolving fast. When Colin Kaepernick first knelt during the US national anthem in 2016, professional football turned its back on him. Now, consumer and sports fan expectations are forcing brands...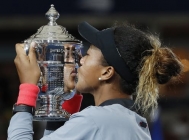 Women in sports: double standards a double fault
Sep 13, 2018 13:08 pm UTC| Insights & Views Sports
Naomi Osaka has made history as the first Japanese woman to claim a Grand Slam singles title after defeating Serena Williams in the final of the US Open. However, her defining performance was overshadowed by controversy...