Get set for take-off in electric aircraft, the next transport disruption
Apr 27, 2019 06:25 am UTC| Insights & Views Technology
Move aside electric cars, another disruption set to occur in the next decade is being ignored in current Australian transport infrastructure debates: electric aviation. Electric aircraft technology is rapidly developing...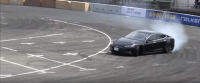 Here's why electric cars have plenty of grunt, oomph and torque
Apr 16, 2019 02:45 am UTC| Insights & Views Technology
Australian politicians, including Prime Minister Scott Morrison, have raised the question of electric vehicles capacity for grunt. Now Im by no means a grunt expert, but when it comes to performance, electric cars are...