The world may lose half its sandy beaches by 2100. It's not too late to save most of them
Mar 03, 2020 08:25 am UTC| Nature
For many coastal regions, sea-level rise is a looming crisis threatening our coastal society, livelihoods and coastal ecosystems. A new study, published in Nature Climate Change, has reported the world will lose almost...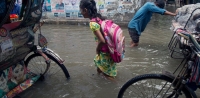 Rising seas will displace millions of people – and Australia must be ready
Aug 24, 2018 03:55 am UTC| Insights & Views Nature
Sea-level rise is already threatening some communities around the world, particularly small island states, as it exacerbates disasters resulting from storm surges and flooding. If greenhouse gas emissions continue...