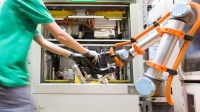 Meet the cobots: the robots who will be your colleagues not your replacements
Oct 29, 2019 19:40 pm UTC| Insights & Views Technology
The latest industrial robots look like petting zoo versions of the big machines found in many modern factories small, cute and you can play with them. But dont be deceived by their cuddly appearance. They have the...
Horizon Europe: the EU plans to spend €100 billion on research – here's how to get the most from it
Sep 10, 2019 20:40 pm UTC| Insights & Views
Imagine that you could decide how to invest 10 billion in research projects. Now imagine that you have to make this decision not once, but every year for the next decade. This is effectively what the EU needs to do in...