Worn, uneven, flooded: young people need better parks to get out and play
Mar 25, 2019 13:49 pm UTC| Insights & Views Life
Who wants to play sport in the mud and muck? Or have to climb a fence to play? After an observational, private audit of the condition of Sydney sports facilities, we found that these are the types of choices young...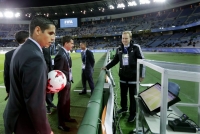 How video assistant referees could undermine on-field referees at the FIFA World Cup
Jul 10, 2018 14:40 pm UTC| Sports
Video-assistant referees (VAR) were introduced into the FIFA World Cup for the first time this year. For those who havent been paying attention: VAR are a team of off-field officials who can replay and review video of...