Parkinson's: four unusual signs you may be at risk
Apr 27, 2019 06:09 am UTC| Insights & Views Health
Do you move around a lot during your sleep? Or have you lost your sense of smell? New insights into Parkinsons disease suggest that these might be the early signs of changes in the brain that mean you are at greater risk...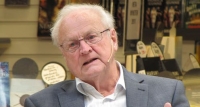 Discovering dopamine's role in the brain: Arvid Carlsson's important legacy
Jul 09, 2018 14:25 pm UTC| Science
Arvid Carlsson, the Swedish neuroscientist and Nobel laureate, died on June 29, 2018 at the age of 95. He had devoted his life to understanding how the brain works and was awarded the Nobel for his research into dopamine ...