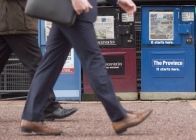 Funding journalism means defining who's a journalist - not a bad thing
Nov 26, 2018 16:08 pm UTC| Insights & Views
The federal governments recent announcement of financial support for news organizations has been met with understandably wide-ranging reactions from relief to skepticism, and worse. Among other measures, the package...
Mental illness on campus really is 'a thing'
Apr 20, 2018 06:04 am UTC| Insights & Views Health
Unlike his former classmates, Alex isnt writing final exams right now, or searching for a summer job, or choosing electives for next year. Alex is no longer a student at all. As an academic leader responsible for...