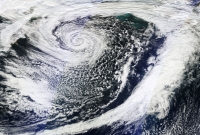 Is warming in the Arctic behind this year's crazy winter weather?
Jan 11, 2018 15:29 pm UTC| Insights & Views Nature
Damage from extreme weather events during 2017 racked up the biggest-ever bills for the U.S. Most of these events involved conditions that align intuitively with global warming: heat records, drought, wildfires, coastal...