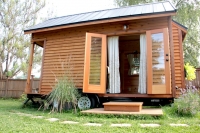 Interest in tiny houses is growing, so who wants them and why?
Sep 25, 2017 12:19 pm UTC| Insights & Views Real Estate
Tiny houses are now so popular that someone was charged with stealing one last week. A social media campaign tracked its journey from Canberra to Hervey Bay. My research to date has found a marked increase in people who...