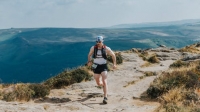 I ran 100 miles in a day, this is what happened to my body
Sep 25, 2018 09:51 am UTC| Insights & Views Health
The marathon race has long been considered the ultimate test of human endurance. But the last few decades have seen growing numbers of runners regularly tackling distances exceeding the traditional marathon. So-called...
From diarrhoea to heart damage, ultra endurance sports put a huge strain on the body
Aug 29, 2017 14:14 pm UTC| Insights & Views Health
From The Race Across America, a 3,000-mile 12-day cycle demanding more than 20 hours per day in the saddle, to the Iditarod Trail Invitational, where participants run, bike, sled, or ski their way across 1,000 miles of...