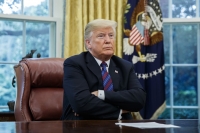 Donald Trump anonymous staffer speaks out – treason or a public service?
Sep 09, 2018 21:02 pm UTC| Insights & Views Law
One of Donald Trumps senior White House staff has made a truly unprecedented move against their ultimate boss. The staffer anonymously published an opinion piece in the New York Times, in which the individual described a...
University rankings: good intentions, image polishing and more bureaucracy
Jun 23, 2017 17:41 pm UTC| Insights & Views Business
Some UK universities will be cheering, some groaning, after the release of rankings under the Teaching Excellence Framework (TEF). My own university received a silver, so were shrugging. Despite all these reactions, we...