Both democracy and authoritarianism are on the rise in Africa
Feb 19, 2019 16:58 pm UTC| Insights & Views Politics
Is democracy in Africa in retreat? Or is it simply suffering growing pains? The last 12 months have seen a great deal of controversy and debate on these important questions. There have been some bright spots, like the...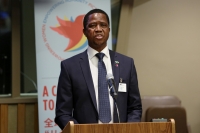 Zambia slides towards authoritarianism as IMF props up government
Jun 21, 2017 15:45 pm UTC| Insights & Views
The speaker of the Zambian National Assembly, Patrick Matibini, has suspended 48 opposition legislators for 30 days as a punishment for unauthorised absence from the parliament. Their offence? To have been missing for...