How the legacy of dirty coal could create a clean energy future
Jan 22, 2018 14:09 pm UTC| Insights & Views
Energy from coal is now being linked to global warming and pollution on a global level. In fact, it has been estimated that coal contributes to 25% of green house gases. Coal use has caused severe negative environmental...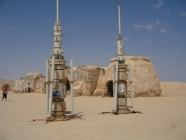 New technology brings Star Wars-style desert moisture farming a step closer
Apr 14, 2017 01:59 am UTC| Insights & Views Technology
Luke Skywalker wasnt just a farmer. In the original 1977 Star Wars film, the lead character was desperate to leave his home planet of Tatooine, where his family farmed moisture from the atmosphere using devices called...