Vegans: why they inspire fear and loathing among meat eaters
Nov 04, 2018 14:48 pm UTC| Insights & Views Health
Food critic William Sitwell has resigned as editor of Waitroses in-house magazine following a row over his astonishingly hostile response to a freelance journalist who proposed a series of articles on veganism. A...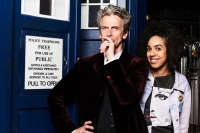 Doctor Who takes an ethical stance towards alien life -- so why isn't he vegan?
Apr 11, 2017 13:33 pm UTC| Insights & Views Entertainment
Since the Doctor Who series was rebooted in 2005 the television show has consistently presented the Doctor as a moral leader, a key element of which is his respectful relationship with other species. The Doctor expresses...