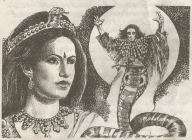 Why do horror pulp fiction in Pakistan demonise Hindu characters?
Mar 14, 2017 08:00 am UTC| Insights & Views Entertainment
A terrible war is going on in the ghost world. Two opposing sides the Muslim spirits and the Hindu spirits face each other in a horrific combat. Suddenly, a gigantic fire-spitting demon with three eyes and a snake...