Air pollution exposure linked to higher COVID-19 cases and deaths – new study
Jul 14, 2020 09:51 am UTC| Nature
The global death toll from COVID-19 has now passed half a million. To slow the spread of the disease, we need to better understand why some places have higher numbers of cases and deaths than others. One factor that...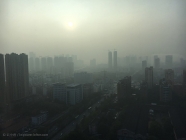 Wuhan's lockdown cut air pollution by up to 63% – new research
May 14, 2020 10:30 am UTC| Nature
The COVID-19 lockdown in Wuhan, China, resulted in a 63% reduction in nitrogen dioxide concentrations, according to our new research. We have calculated that this drop in air pollution may have prevented up to 496 deaths...