Labour split: new independent group of MPs could break Britain's political deadlock
Feb 19, 2019 17:00 pm UTC| Insights & Views Politics
The rumours of a breakaway centrist movement have finally come to fruition. Frustrated at Labours supine approach to Brexit, and understandably angered by the leaderships attitude towards anti-Semitism within the party,...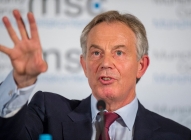 Tony Blair is back – but is there space for him?
Nov 25, 2016 22:29 pm UTC| Insights & Views Politics
Tony Blair is back. He started to pop up during the Brexit debate and has now revealed that he plans to set up a centrist think tank and to make more direct interventions. It seems Labours most successful prime minister...