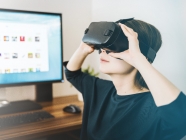 How coronavirus set the stage for a techno-future with robots and AI
May 09, 2020 08:38 am UTC| Technology
Not so long ago, the concept of a fully automated store seemed something of a curiosity. Now, in the midst of the COVID-19 pandemic, the idea of relying on computers and robotics, and checking out groceries by simply...

The price of AI art: Has the bubble burst?
Jan 07, 2020 15:33 pm UTC| Insights & Views Fintech
Last fall, an AI-generated portrait rocked the art world selling for a staggering US$432,500 at Christies auction house in New York. The portrait called Edmond de Belamy features a slightly out-of-focus man with no nose...