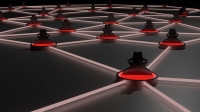 Inside a ransomware attack: how dark webs of cybercriminals collaborate to pull one off
Jun 20, 2021 12:02 pm UTC| Technology
In their Carbis Bay communique, the G7 announced their intention to work together to tackle ransomware groups. Days later, US president Joe Biden met with Russian president Vladimir Putin, where an extradition process to...
Fastly's global internet meltdown could be a sign of things to come
Jun 10, 2021 03:54 am UTC| Technology
For an hour on the morning of June 8, dozens of the worlds most-visited websites went offline. Among those affected were Amazon, Reddit, PayPal and Spotify, as well as the Guardian, the New York Times and the UK government...