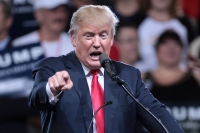 Trump, like Obama, tests the limits of presidential war powers
Jan 10, 2020 10:23 am UTC| Insights & Views Politics
To many observers, President Donald Trumps decision to kill a senior Iranian general is yet another example of his unique impetuousness and determination to go it alone in his foreign policy. Congress has begun to take...
Could Congress reverse Trump's decision to pull troops out of Syria?
Oct 31, 2019 06:09 am UTC| Insights & Views Law
The political and humanitarian outcry condemning President Donald Trumps decision to pull U.S. troops out of Syria came soon after he made the announcement. Trumps actions paved the way for Turkish troops to attack...