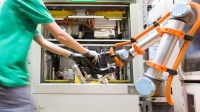 Meet the cobots: the robots who will be your colleagues not your replacements
Oct 29, 2019 19:40 pm UTC| Insights & Views Technology
The latest industrial robots look like petting zoo versions of the big machines found in many modern factories small, cute and you can play with them. But dont be deceived by their cuddly appearance. They have the...
Most innovation originates from customers, not companies
Sep 13, 2019 10:54 am UTC| Insights & Views Technology
The mountain bike wouldnt exist if it wasnt for disgruntled customers. In the 1970s, some cyclists wanted to ride off-road but were let down by existing bikes that werent suited to rugged terrain. They adapted road bikes,...