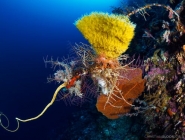 Getting to the bottom of things: Can mining the deep sea be sustainable?
Sep 10, 2019 20:37 pm UTC| Insights & Views Nature
It is completely dark, just above freezing cold and the pressure is crushing: this is the deep-sea floor. Food is very scarce in this huge region, yet a great diversity of animals have adapted to exploit and recycle...