Why some species thrive after catastrophe – rules for making the most of an apocalypse
Jul 21, 2020 14:05 pm UTC| Nature
Sixty-six million years ago, an asteroid struck the Earth. The world was plunged into darkness, killing the dinosaurs and over 90% of all species alive. Today, every living thing descends from the handful of surviving...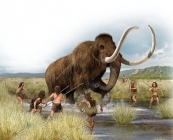 How the extinction of ice age mammals may have forced us to invent civilisation
Jan 06, 2020 16:57 pm UTC| Insights & Views Nature
Why did we take so long to invent civilisation? Modern Homo sapiens first evolved roughly 250,000 to 350,000 years ago. But initial steps towards civilisation harvesting, then domestication of crop plants began only...