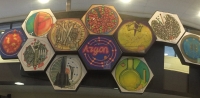 When an artist looks at a chemical element, what do they see?
Jul 18, 2019 07:19 am UTC| Insights & Views Entertainment
Artistic depictions of several chemical elements feature in a new exhibition from today as part of Australias celebrations for the International Year of the Periodic Table. They are the work of artists Damon Kowarsky...