Satellites reveal ocean currents are getting stronger, with potentially significant implications for climate change
Apr 23, 2021 11:29 am UTC| Nature
Scientists already know the oceans are rapidly warming and sea levels are rising. But thats not all. Now, thanks to satellite observations, we have three decades worth of data on how the speeds of ocean surface currents...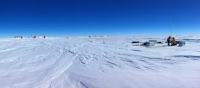 Arctic ice loss is worrying, but the giant stirring in the South could be even worse
Jul 12, 2019 09:49 am UTC| Insights & Views Nature
A record start to summer ice melt in Greenland this year has drawn attention to the northern ice sheet. We will have to wait to see if 2019 continues to break ice-melt records, but in the rapidly warming Arctic the...