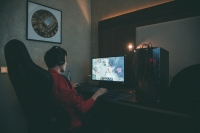 With everyone stuck indoors, esports is poised for its time in the sun
Apr 13, 2020 15:23 pm UTC| Insights & Views
Against a global backdrop of cancelled sports leagues, and as part of their season opening, National Rugby League (NRL) fans recently packed the stands of Townsvilles new Queensland Country Bank Stadium. Fortunately,...
Formula 1 says it's going carbon neutral but fans must demand greater detail on how
Jan 18, 2020 12:02 pm UTC| Insights & Views Sports
When Formula 1 announced late last year that the sport would be carbon neutral by 2030, the organisations chief technical officer spoke of the transition to a lower carbon world: F1 could play a huge role in this...