The NHL put profit ahead of players' health during last century's pandemic
Apr 13, 2020 15:17 pm UTC| Sports
If the coronavirus pandemic hadnt upended the world of sports, the National Hockey League playoffs would be under way now and 16 teams would be fighting for the Stanley Cup. Instead, the NHL is considering a number of...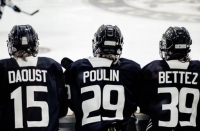 A union of women's hockey players looking for a league of its own
Oct 26, 2019 07:35 am UTC| Insights & Views Sports
The Dream Gap Tour of elite hockey players put the womens game back in the news this fall. Some of the worlds best players including more than 35 Olympians played in the four-team exhibition tournament that travelled to...