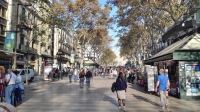 Public spaces bind cities together. What happens when coronavirus forces us apart?
Mar 26, 2020 15:53 pm UTC| Economy
In modern cities, our public spaces represent our shared values. They are our common assets, owned, maintained and used by all members of our society. The outbreak of coronavirus and its immediate impacts, such as social...