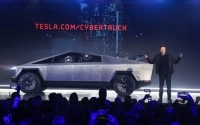 Love it or hate it, Tesla's Cybertruck is revolutionary
Dec 04, 2019 11:23 am UTC| Insights & Views Technology
With a collective gasp and puzzled looks, the world was recently introduced to Teslas newest vehicle. The so-called Cybertruck is an angular, stainless steel, all-electric pickup truck that quickly became...
Blame wood-burning stoves for winter air pollution and health threats
Mar 09, 2019 05:33 am UTC| Insights & Views Health
It may be natural, but theres nothing safe or environmentally sound about heating your home with wood. The World Health Organization has ranked air pollution and climate change as the top health threat for 2019. One in...