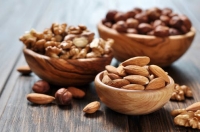 Health check: will eating nuts make you gain weight?
Feb 19, 2019 17:02 pm UTC| Insights & Views Health
The Australian Dietary Guidelines recommend we eat 30g of nuts a small handful each day. But many of us know nuts are high in calories and fat. So should we be eating nuts or will they make us gain weight? In...