This a lucky week for action camera fans who have been waiting for a substantial discount on GoPro HERO8 Black. The company has announced its biggest discount yet for its latest flagship camera.
GoPro HERO8 Black price, bundles: Where to get a $50 discount
Since GoPro HERO8 Black was just released last October along with the 360-degree camera MAX, the products were not really included in major sales and discounts during Black Friday, Cyber Monday, and the rest of the holiday season. But that has changed now as GoPro announced a price cut for the HERO8 Black on Wednesday.
The basic bundle of GoPro HERO8 Black that comes with a free 32GB SD card was launched with a $399.99 price tag. Following the latest promo, GoPro is slashing off $50, bringing the price down to $349.99. It is unclear if this is a limited-time offer and until when this new pricing will be available. The official GoPro website, however, still shows the $399.99 price, so there is a possibility that the original pricing would make a comeback.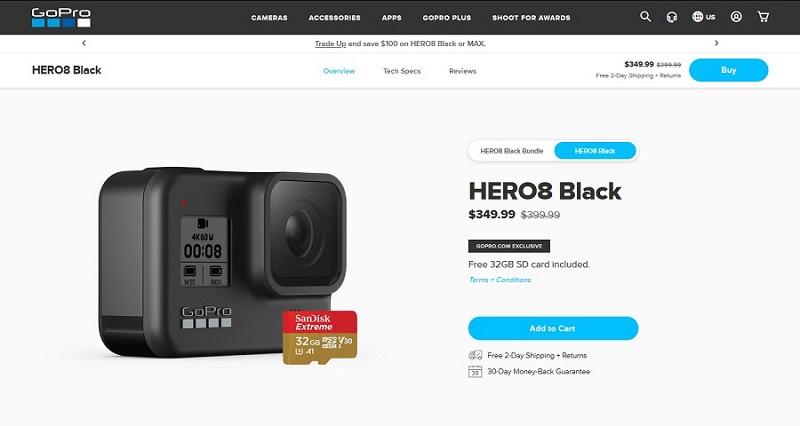 Screenshot from GoPro.com
It also appears that the $50 discount is not applicable for customers buying through the TradeUp program for a $100 off promo for both GoPro HERO8 Black and MAX. Customers will have to trade in a digital camera of any brand and "in any condition" as long as it had an original retail value of at least $99.99. HERO8 Black bundle that ships with a Shorty grip, a 32GB SD card, Head Strap, and an extra battery is still priced at $449.99.
GoPro HERO8 Black features, accessories: What's new?
Most of the upgrades on the HERO8 Black are made possible by the improved GoPro-developed features. It is the first action camera from the company to sport the HyperSmooth 2.0 and TimeWarp 2.0 that are advertised as next-level tech to offer better image stabilization and timelapse capabilities.
The GoPro HERO8 Black also sports a slightly tweaked design and a built-in provision for mount attachments. The latter makes more sense as GoPro also launched HERO8-exclusive mod accessories, namely the Display Mod and Media Mod, along with the Light Mod that can be used with other devices.