One of the first official teasers for "Food Wars" season 5 has been released along with the announcement of the exact release date for the anime's return. A large segment of the new visual art is occupied by a mystery character, which fans should take note of before the Fifth Plate begins.
'Food Wars' season 5 spoilers: The mystery guy in Fifth Plate's new visual art
This week begins with the unveiling of the key visual art for "Food Wars" season 5, and it encapsulates the stories that await in the remaining arcs of the series. The image also gives several hints at the main plot elements in the Fifth Plate.
The "Food Wars" season 5 teaser features Erina, Takumi, Megumi, and Soma, who are going to be the main players in the remaining arcs, especially in the final BLUE arc. These Totsuki chefs will join the international BLUE competition and will be the frontrunners in fighting a band of ill-willed chefs.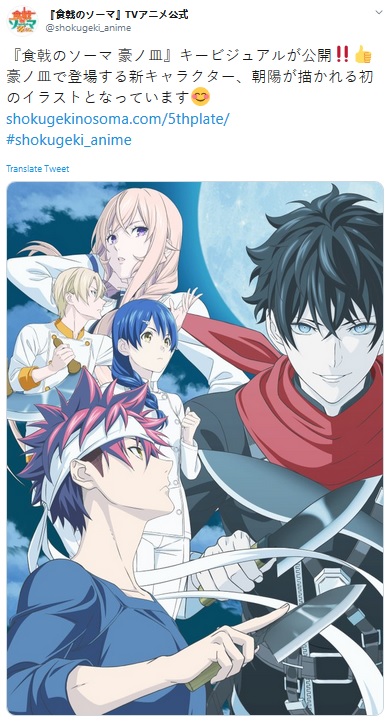 'Food Wars' season 5 key visual | Screenshot from Twitter/@shokugeki_anime
The background of the image shows a full moon and a dark sky in the night. It is a reference to Les Cuisiniers Noir or the Midnight Chefs. They are named as such because they rarely appear in public despite their culinary prowess. Most of them work for criminal organizations and have the same manners as their bosses. Expect to see them in many shokugeki in "Food Wars" season 5.
A larger portion of the key visual is dedicated to a grinning blue-eyed man holding two different knives. He is the same cryptic guy who appeared in the final scene of season 4 meeting with Erina. He is going to be the "Food Wars" season 5 main villain and regarded as the leader of the Midnight Chefs.
Asahi collects the favorite knives and kitchen tools of his shokugeki opponents once they lost. This explains why he holds two different knives in the "Food Wars" season 5 key visual and why Takumi is seen with mezzaluna in the teaser.
'Food Wars' season 5 release date set in the first half of April
"Food Wars" season 5 will be released on Friday, April 10, 24:30 JST, effectively April 11. Per the usual broadcast, the anime will premiere in Japan via Tokyo MX, while it is very likely that streaming services such as Crunchyroll would offer paid simulcast for fans worldwide.