All of Apple's anticipated fall season product launch events took place without announcing a new AirPods product. That led to speculations that the long-rumored AirPods Studio might not be released until 2021. However, Apple pulled another "one more thing" moment on Tuesday and launched the over-ear headphones officially called the AirPods Max.
Wait for AirPods Max could extend to 14 weeks in some places
As with most of Apple's product launch events, pre-orders for newly announced devices start immediately after they are launched. On paper, the release date of AirPods Max is set for Dec. 15. However, it appears to be already low on stock as shipping dates in some areas are already delayed by up to 14 weeks while other color variants are already labeled sold out.
As of this writing, the wait for AirPods Max could take up to 12-14 weeks, according to Apple.com. That ETA seems to apply for all color options, which include Space Gray, Silver, Green, Sky Blue, and Pink, that will be ordered without the free engraving.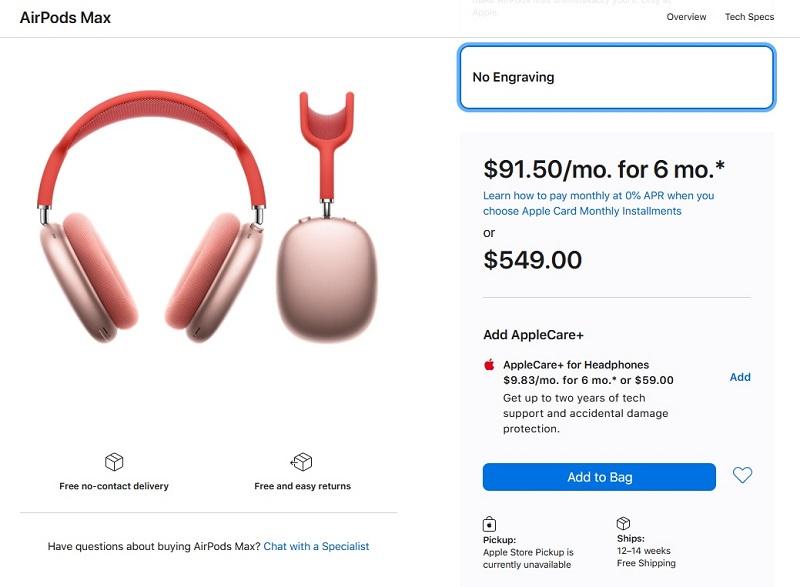 Screenshot from Apple.com
It is then rather odd that ordering an engraved AirPods Max significantly shortens the waiting period. Headphones ordered with a free engraving and in the colors Space Gray, Silver, and Pink could be delivered between Feb. 1-5. Green AirPods Max with engraving will take up to 8-10 weeks before it is shipped while the Sky Blue variant, even with free engraving, is still slated to be delivered after 12-14 weeks.
Note that these apply to orders with shipping addresses in the United States, and it remains to be seen whether the wait will be shorter or longer in the coming days. Bloomberg reports that delivery dates differ in various countries. Customers in the United Kingdom practically get the same shipping date as those in the U.S. while there appear to be more stocks in countries like Australia and France where AirPods Max is still possible to be delivered before the end of 2020.
AirPods Max stocks are already incomplete on third-party retailers
Apple fans can also pre-order AirPods Max through other retailers such as Best Buy and Target for the same standard price of $549. The Space Gray and Silver variants are currently available on both retailers with a Dec. 15 delivery date while the other colors are already labeled sold out. Target has yet to accept pre-orders for the Pink variant.