Riksbank September Business Survey points concerns over Swedish economic outlook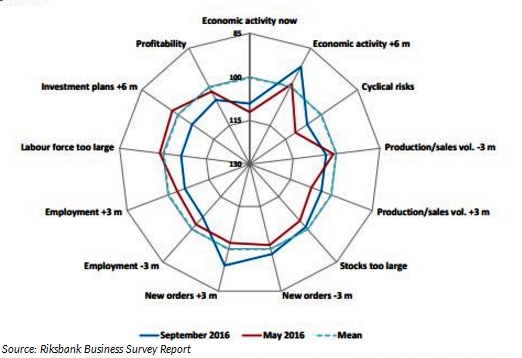 Wednesday, October 12, 2016 10:57 AM UTC
The Swedish central bank Riksbank conducted a Business Survey in the month of September. The central bank stated that the Swedish economic activity has been good in the past three years and that it looks set to continue in the autumn. However, there is a rise in uncertainty.

The survey showed that firms in the country are generally quite concerned regarding the economic outlook now as compared to the earlier survey conducted in May. According to the survey, economic activity and new orders deteriorated. On the other hand, domestic demand still appears to be solid, especially in the construction industry. The construction sector is also witnessing overheating tendencies.

On the inflation front, the survey indicated that the firms anticipate inflation to stay weak. Meanwhile, low price pressure in the retail trade is likely to persist in spite of rising costs. Within retail, competition is seen as harsh and profit margins have worsened. The survey stated that a "very moderate upward adjustment in prices can be expected".

The latest survey, along with the September inflation figure, provides certain additional arguments for the Riksbank to provide further easing, said Nordea Bank in a research note. The Riksbank is now expected to lower rate and expand its quantitative easing program during its upcoming meeting in October, added Nordea Bank.