Tencent Games recently launched the "PUBG Mobile" version 1.0 along with many gameplay and visual improvements. However, it appears that the developer has a few more major updates in the pipeline that might bring BLACKPINK fans to the battle royale mobile game.
Is BLACKPINK's Lisa the next 'PUBG Mobile' character?
Earlier this week, official "PUBG Mobile" social media pages released several promo images that stirred speculations about a potential Tencent Games and BLACKPINK collaboration for the game. The official Twitter page for the game released a close-up photo of a pink-haired woman donning a full fringe and pink eyeglasses that shows a reflection of an area in Erangel.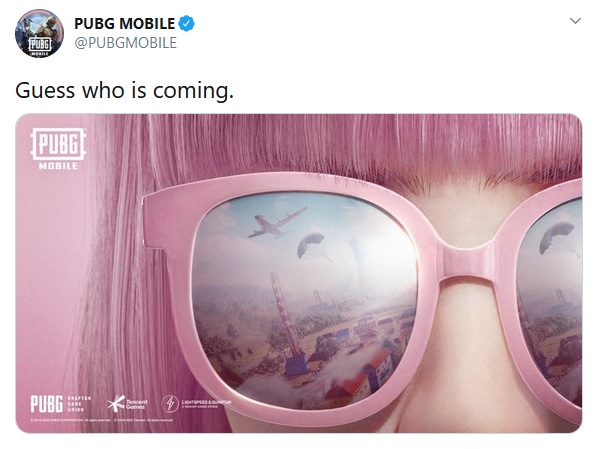 Screenshot from Twitter/@PUBGMOBILE
Developers further teased, "Guess who is coming." While those were all the clue provided in the post, BLACKPINK fans immediately filled the replies section with the suggestion that the image could be hinting at the K-pop group's addition to the game. More specifically, fans think the woman in the photo is BLACKPINK's rapper, Lisa, who is also well-known for having a similar hairstyle. With that, gamers and K-pop fans are considering the possibility that a new character could be added in "PUBG Mobile" designed after Lisa.
It is not new for Tencent Games to add "PUBG Mobile" characters based on real-life personalities. Considering the similarities between the character in the teaser and Lisa, the possibility for the popular K-pop star to be included in the battle royale game cannot be ruled out.
More 'PUBG Mobile' teasers potentially pointing at BLACKPINK collaboration
BLACKPINK fans, or BLINK as they call themselves, will be delighted to know that the Lisa-looking character is not the only "PUBG Mobile" teaser that came out this week. Tencent released a second promo image a few hours later showing four female characters in a vehicle driving into Erangel. The caption reads, "'New color' is on the way." And it only fueled the speculations that the entire K-pop group could be heading into the game.
K-pop fandoms, especially for a group as popular BLACKPINK, are some of the most far-reaching and loyal group of fans around the world. It is not surprising that Tencent Games want to tap that market for "PUBG Mobile" especially with more battle royale games getting released. And it already seems to be working. People replying to the teasers are mostly giving positive responses with some of them saying they are returning to the game or will try it for the first time if it ends up featuring BLACKPINK.