Action camera fans who have been wanting to get the GoPro HERO8 Black but finds the price too steep now have a chance to buy it on its biggest sale ever. However, this offer could be related to the massive adjustments the company has to make, including laying off 20 percent of its employees, as it navigates the effects of COVID-19 to its business.
GoPro HERO8 Black promo
GoPro had previously dabbled with limited-time offers just a few months after the launch of HERO8 Black last fall. But the ongoing sale for its flagship camera is the biggest one yet as it slashes $100 from its regular price tag.
The basic GoPro HERO8 Black bundle that comes with the camera and a free 32GB SD card is now available for only $299. The discount also applies to the installment payment plans for 3, 6, or 12 months if the purchase is made within the promo period.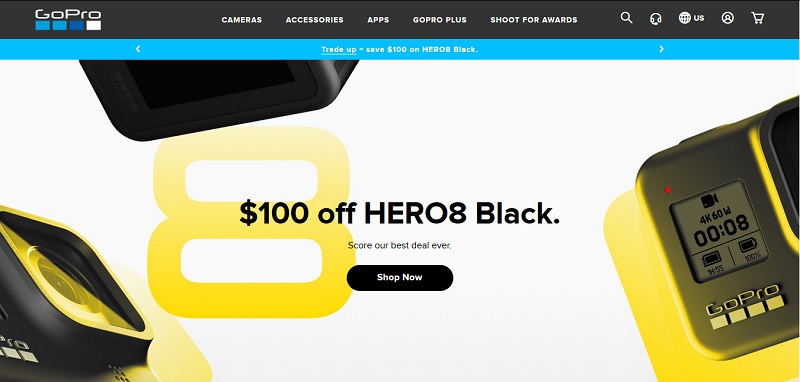 Screenshot from GoPro.com
GoPro HERO8 Black is the company's best product yet, thanks to the improved image stabilization software that launched with the camera. It functions with the HyperSmooth 2.0, the TimeWarp 2.0 for better timelapse capturing, and a built-in mounting design.
The company also launched GoPro HERO8 Black-specific accessories, namely the Light Mod, Media Mod, and Display Mod. The latter allows users to see the image or video they are taking whenever they are filming themselves. Light and Media Mods are now available for purchase, while pre-orders for Display Mod will be accepted this month.
GoPro reels from the effects of COVID-19 pandemic
Offering the GoPro HERO8 Black with such a huge discount is likely one of the ways the company hopes to drive up sales. The COVID-19 pandemic has forced many people to stay home or cancel their travel plans, which is not good news for a product that is aimed at adventure-seeking consumers.
The company confirmed Wednesday that the pandemic had such a devastating impact on its business, forcing it to lay off 200 employees – equivalent to more than 20 percent of its workforce. "We are crushed that this forces us to let go of many talented members of our team, and we are forever grateful for their contributions," GoPro founder and CEO Nicholas Woodman said.
Featured photo by Marco Verch licensed under Creative Commons (CC BY 2.0)